More info
Cocofina Organic Virgin Coconut Oil
Organic Virgin Coconut Oil of Cocofina is a virgin coconut oil 100% organic, cold pressed and unrefined. It is obtained from an exceptional class of coconuts originally from Kerala, carefully selected to guarantee their quality.
Cocofina Organic Virgin Coconut Oil is obtained from traditional procedures, without added ingredients, without additives and without preservatives, resulting in a coconut oil with a silky texture, a delicate coconut flavor and sweet aroma.
Accreditation and awards
Cocofina Organic Virgin Coconut Oil is accredited by the Soil Association UK, an organization that supports local agriculture and certification of organic products.
Soil Association UK was a pioneer in developing the first organic certification system worldwide in 1967. Founded by farmers, scientists and nutritionists who studied the direct influence of sustainable agriculture on health.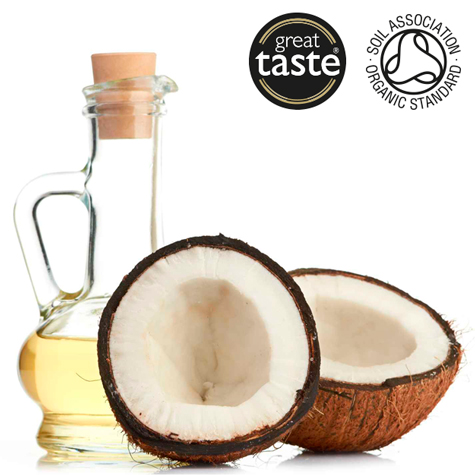 Cocofina received its first Excellence in Food and Drink Award in 2005.
Benefits of coconut oil on health
Helps accelerate the metabolism
Provides medium chain fatty acids highly beneficial for the body
Contains Lauric Acid that helps strengthen the immune system
Help reduce appetite
Protects from hair deterioration and keeps the skin hydrated
Fatty acids from coconut oil help increase brain function in patients with dementia and Alzheimer's
It exerts antiviral, fungicidal and antibacterial effects on the organism.
Prevents hypertension and cardiovascular diseases.
Powerful anti-aging agent
Characteristics
Coconut oil is a healthy and versatile fat, and can be used in both cosmetic and kitchen applications. It maintains its properties much longer than any other oil since, one of its main characteristics is that it holds extreme temperatures very well. The Coconut Oil can be heated and cooled as many times as you want without altering its characteristics, preserving at all times its properties, its aroma and its flavor.
Its conservation is simple, it can be stored in the refrigerator or at room temperature, protecting it from direct sunlight.
Presentation: glass jar
Weight: 350 ml